Hey Everyone this is one of my favorite recipes because you can really improve with it. This allows you to mix the protein of choice and there's also a few options you can do with the vegetable mixes. In addition you can also go full vegan on this as well.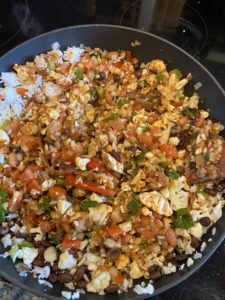 Here's what I use typically:
Black Beans
Chic Peas
Pico De Gallo
Scallions
Cauliflower
Choice of Meat, turkey, hamburger, chicken, etc
This is what I had to work with dinner:
Black Beans
Chilli
Rice
Cauliflower
Pico
Scallion
Steak that I cut into fajitas strips
Happy Cooking and send me some pictures!